Founding Editors: 
Nathalie Tasler, PhD, MPhil, PGCert LTHE, PGDip CCM, SFHEA
Nathalie is a lecturer in Academic and Digital Development in the University of Glasgow. Her background is Erziehungswissenschaften (Sciences of Education) and her work focusses on the Scholarship of Teaching and Learning as well as Creative Learning and Teaching. She is leading master level courses (Creative Pedagogies for Active Learning and Developing Educational Inquiries) and the MEd Academic Practice dissertation year. Nathalie is member of the ALT ELSIG Scholar Group, ISSOTL Membership committee and Curator for the National Teaching Repository (SoTL Section).
Personal Blog: Adventures in Academic Development – Hochschuldidaktik, Play and Creativity in Higher Education, SoTL (acdevadventures.blog)
Nathalie.Sheridan@glasgow.ac.uk 
Dr Matthew Barr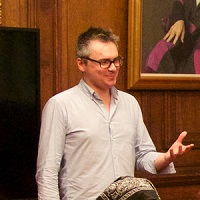 Dr Matthew Barr is currently Programme Director for the Graduate Apprenticeship in Software Engineering at the University of Glasgow and co-founder of the Ada Scotland Festival. He is also co-Director of the University's Games & Gaming Lab, and serves as Vice Chair of British DiGRA and as a Trustee and Director of the Scottish Game Developers Association. Matt also sits on the BAFTA Scotland Committee and currently serves as the Games Jury Chair. His book, Graduate Skills and Game-Based Learning, was published by Palgrave in 2019.
Matthew.Barr@glasgow.ac.uk
Dr Vicki Dale 
Dr Vicki Dale is a Senior Academic and Digital Development Adviser at the University of Glasgow. She is a member of the organising committee of ALT (Association for Learning Technology) Scotland group, and has been an active member of the Organising Committee for ALT-ELESIG (the ALT special interest group for learner experience research) for several years. She is co-editor for a special issue of the Journal of Perspectives in Applied Academic Practice, on 'Transitions to remote and blended learning', available later in 2021. 
Vicki.Dale@glasgow.ac.uk